Athena SWAN
The Athena SWAN Charter evolved from work between the Athena Project and the Scientific Women's Academic Network (SWAN), to advance the representation of women in Science, Technology, Engineering, Medicine and Mathematics (STEMM).
The AS Charter was officially launched at the Institute of Physics on 22 June 2005, with the first awards conferred in 2006.
The AS Charter is managed and funded by Equality Challenge Unit (ECU), the Royal Society, the Biochemical Society and the Department of Health.
Athena SWAN received a major boost in 2011, when the Chief Medical Officer announced that the National Institute for Health Research would only expect to shortlist medical schools for biomedical research centre and unit funding if the school holds a Silver Athena SWAN award.
Many women go into science at undergraduate level, but the proportion of women continuing to the highest levels of their chosen field does not reflect those undergraduate numbers. The initiatives launched under the Athena SWAN umbrella seek to redress that imbalance by creating the optimum conditions to enable the progression of women in science and to increase the representation of women in senior roles.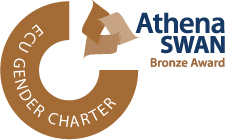 The University of Cambridge holds an Athena SWAN Bronze award, and a number of its Departments already hold Bronze or Silver awards.
The Department of Pharmacology was pleased to submit its application for an Athena SWAN Bronze Award in November 2013. This involved providing an overview of the Department and its female staff and student population, supported by data relating to the gender balance in the Department, promotion, recruitment, family-friendly provision and other areas of particular relevance to women in their careers. We also provided an assessment of initiatives already underway in the Department and the wider University to support women in Pharmacology and related fields of scientific research.
An action plan submitted in conjunction with the application sets out 19 different actions for us to follow up; some of these relate to practice that is already in place but needs refreshing, and some to new departures.
The application was prepared by a Departmental panel of academic staff, researchers, and support staff, chaired by Dr Ruth Murrell-Lagnado with support from Dr Vivien Hodges (University's Women in Science and Technology representative).
We are delighted to learn of the successful outcome of our Athena SWAN application. The Bronze award has provided the impetus for the Department to create the optimum conditions to enable the career progression of women in science. 
The Department will now be taking forward its action plan with a view to applying for a Silver Award.
View Department's 2013 submission  here
View Pharmacology 2017 submission here

Caring for a dependent, whether they are children, or ill, elderly or disabled family members, friends or partners, is often difficult to balance with today's demanding working schedule. Support and information is particularly useful at those transition points in life, such as becoming a carer for an elderly relative, or becoming a parent and going on maternity or paternity leave, or when returning to work from a career break. On this website you will find a brief overview of the possibilities at Cambridge that can assist you in achieving an optimal work-life balance.
SPACE: Supporting Parents and Carers @ Cambridge 
The SPACE network is a social network where people have the opportunity to exchange experiences and help each other in an informal but confidential fashion. Relevant information on the following topics can be found on their website:
Policies (shared parental/maternity/paternity/special leave, graduated return, flexible working)
Financial Matters (University Support Structures, childcare, independent fellowships)
Manager's Guide (Information for line managers and supervisors)
Flexible Working – Case Studies
SPACE buddies (Informal peer support network)
The SPACE network also organises regular, free events for all university members. These are usually themed around a certain topic, have an internal or external speaker and provide a good opportunity for discussion and networking.
Childcare
Finding childcare spaces in Cambridge can be challenging. Information about the University Childcare Office can be found here. This website gives an overview of the University Nursery and Holiday Play Schemes, and has a lot of other useful, childcare-related links.
The council also provides some information on families in Cambridgeshire and advice on how to find appropriate childcare.
Flexible working
The University acknowledges that a traditional working day with fixed hours might not be conducive to a healthy work-life balance, especially if one has caring responsibilities for either children or adults. Over the past few years 65% of requests for flexible working to accommodate caring arrangements were approved. In a recent departmental survey we found that although there is only a small proportion of people on official flexible working agreements the majority of staff and students work flexibly on a weekly basis. Although some people have expressed concerns about the possible impact of flexible working on their career, we can show that these are outweighed by the benefits for well-being, work-life balance, work attitude and job commitment. The Department is supportive of all members of staff who need to amend their working hours, whether it is to deal with an emergency or on a more permanent basis. Where possible, it will endeavour to accommodate both formal and informal flexible working requests that benefit all parties involved.
Assistant staff have a window (between 0800 and 1800) during which working hours can be arranged subject to agreement. Some roles do, however, require more specific hours.
Research and academic staff have greater flexibility to arrange their hours. Group Seminars are arranged with other commitments in mind. The start and end times of main Department staff meetings and seminars have been changed to make it easier for those with childcare responsibilities to attend.
Wellbeing
The University's new Wellbeing website is now available on the HR Division website at: www.wellbeing.admin.cam.ac.uk
See letter from Professor Eilish Feran, Pro-Vice Chancellor for Institutional and International Relations.
Please note that Amparo Saez Caudet (pharsect@hermes.cam.ac.uk) is Pharmacology's Wellbeing Advocates. If there are issues or concerns you would like to raise, then do not hesitate to contact one or other of them.
It goes without saying that everything will be dealt with in strictest confidence.
Social Events
The Department hosts annual Christmas and Summer parties to which partners, children and friends are invited as well. Every year the themed Christmas party, a highlight of the year,  is organised by a different lab group. In contrast, the Summer Party is a more relaxed Garden Party-style event. Games for children (and adults!) are organised, and, weather permitting, everyone enjoys a pleasant evening outdoors.
Departmental Contacts
If you have any questions, need more information or simply would like to chat to somebody about caring related topics, feel free to contact Laura Itzhaki or Thury Agustsdottir. They both have experience with caring for children and adults, and know a lot about the support structures available for members of staff and students.