What is Pharmacology?
The use of medicines is one of the principal ways of combating disease. Examples of important medicines are antibacterials, anti-cancer drugs, anti-migraine agents, and drugs used to treat cardiovascular disease and asthma, to name just a few.
The growth of pharmacology research during the mid-20th century saw a huge rise in the number of diseases that could be tackled effectively with drug therapy. The development of new and successful drugs requires advances and insights generated by scientific research.
Pharmacology is all about 'finding out how drugs work'. It is concerned with the effects of drugs on living organisms and their components, such as cells, membranes, organelles, enzymes and DNA.
Pharmacology affects us all, almost every day.
The Department aims to:
Promote further study and careers in Pharmacology
Help support learning and enrich the curriculum in local schools
Provide a regular programme of

Research Seminars

in Pharmacology
Provide members of the public with resources and information about our teaching and research via our website and other media
Public Engagement
The Department participates in several public outreach activities, the largest of which is the interdisciplinary Cambridge Festival.
In addition, there are hundreds of events at the University that are open to the general public. Many of these events are free of charge - you can find out more about them here.
One event that several researchers within the Department have taken part in over the last few years is Café Scientifique, where researchers give a talk in a local bar to provide insight into their everyday research, such as Dr Ewan St. John Smith's work with naked mole rats. These events are free to the public, sponsored by the Medical Research Council and a podcast accompanying each event is produced by the Naked Scientist.
Cambridge Festival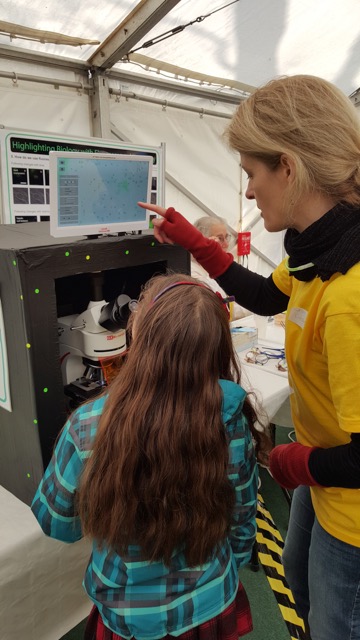 The Department of Pharmacology runs an event called Medicines Under the Microscope, which examines the effects of common drugs on the heart rate of the water flea Daphnia magna (e.g. caffeine from Red Bull, nicotine from nicotine patches and ethanol from alcohol-containing beverages).
Children of all ages are welcome to attend and have the opportunity to catch their own pet, look at its heart, eye and legs etc. under the microscope and even take it home (with instructions for care, of course!)
Using a microscope linked to a television, researchers from the Department then assist in helping everyone present to count the heart rate of the water flea and how drugs such as nicotine and ethanol affect the rate: real pharmacology for all to see!
Work Experience
We are happy to consider applications from suitably qualified applicants from universities in the UK or abroad for research studentships, usually for 4 – 6 weeks over the Summer.
Informal enquiries should be addressed to the Principal Investigators in the Department. More information can be found below.
Young Pharmas
Young Pharmas is an exciting annual outreach scheme headed by Dr Emily Taylor, in which several hands-on practical sessions give students currently studying biology and chemistry the opportunity to experience what a career in science might be like. Highlighting the importance of making accurate scientific measurements and introducing modern techniques such as fluorescence microscopy.
As well as aiding in the understanding of current A-level subjects, Young Pharmas aim to get students thinking about science in a wider context beyond the classroom and give a taster of what life as a University of Cambridge student might be like.