Professor Robin Irvine (retired)
E-Mail: rfi20@cam.ac.uk
Keywords
Cell biology; cell signalling; second messengers; inositol phosphates; inositol lipids; kinases
Investigator biography:
Robin Irvine read Biochemistry at Oxford and then did his PhD in Botany at Cambridge studying the effects of ethylene (as a plant hormone) on phospholipid metabolism; given all he has done in the subsequent 40 years, 'plus ça change' springs to mind. He then moved a few miles south to work as a Beit Memorial Fellow with R.M.C (Rex) Dawson in what is now known as the Babraham Institute where he remained for 21 years. In 1996, he moved north to the University of Cambridge Pharmacology Department as a Royal Society Research Professor.
During Robin's long affair with inositides their number and functions have proliferated more than anyone could have imagined, and all his research has been conducted towards elucidating the biology of these fascinating molecules. Together with Mike Berridge Robin helped establish inositol 1,4,5-trisphosphate as a second messenger regulating calcium mobilisation, and concurrently he laid the experimental and conceptual foundations for the inositide expansion by establishing many of the techniques for the separation and analysis of inositol phosphates generated in cells. Since then his group have elucidated routes of metabolism of inositides, have discovered and characterised enzymes that form them, and have identified potential effectors. Currently his lab focuses mostly on the small family (three isoforms in mammals) of phosphatidylinositol 5-phosphate 4-kinases (PI5P4Ks), in particular introducing genomic tagging as a technique to give new insights into their cellular targeting and functions.
Lab members
Dr Jon Clarke  -  Dr Simon Bulley  -  Dr Luisa Giudici  -  Mr Alaa Droubi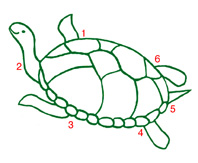 Why a turtle? Because years ago Bernie Agranoff realised that myo-inositol in its usual conformation in solution (a chair configuration with five hydroxyls equatorial, and the number 2 hydroxyl axial) superficially resembles a turtle. It is easy to avoid any confusion in using the D-numbering now universally employed in the biological literature, simply by remembering that the turtle's front right flipper is number 1, and his head number 2. The technical term for this is turtle recall....