Lindon Lab members
Cath - Cynthia - Camilla - Roberta - Annabel - Defu
Current members:
Camilla Ascanelli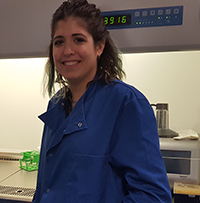 Camilla, originally from Italy, moved to the UK to undertake a Bachelor degree in Pharmacology at Newcastle University. Here, she characterised the effect of an inhibitor of Haspin on Histone H3 phosphorylation and chromosomal segregation.
After graduating, Camilla went on to work for a year at the Mario Negri Institute for Pharmacological Research, Italy, where she focussed on CRISPR-Cas9-Mediated Correction of the G189R-PAX2 Mutation in Induced Pluripotent Stem Cells from a Patient with Focal Segmental Glomerulosclerosis.
In 2017 she joined the Lindon Lab for a PhD under the Astra-Zeneca Ph.D. studentship. Her project concerns developing and characterising a novel live-cell imaging assay to measure Myc oncoprotein's stability.
Some of her hobbies and interests include traveling, art and music.
Cynthia Okoye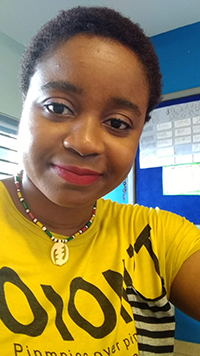 Cynthia completed her BA Hons in Chemistry (with a concentration in Biochemistry and Molecular Biology) at Williams College, Massachusetts in 2018 and joined the Lindon and Itzhaki labs for a PhD under the Gates Cambridge scholarship. Her project aims to discover peptide binders of the APC/C in order to harness the E3 ligase for PROTAC therapeutics. Some of her hobbies and interests include Zumba and African dance, Korean drama, Gospel music, and traveling.
Roberta Cacioppo
Roberta obtained a Bachelor's degree in Biotechnologies from the University of Palermo in Italy, where she investigated the role of the long non-coding RNA hsrω in TDP-43 protein homeostasis. During her Master's degree she undertook a research project at the MRC Protein Phosphorylation and Ubiquitylation Unit in Dundee UK, exploring the translation of proteasome assembly chaperones during cellular stress. She joined the Lindon Lab in 2019 as a David James PhD Student and will be studying the post-transcriptional regulation of Aurora kinase A expression.Outside the lab she enjoys cooking, volunteering and travelling.
Annabel Cardno
Annabel completed her Bachelors degree here in Cambridge, studying Natural Sciences with a specialism in Pharmacology in her final year. She joined the Lindon lab in 2021 to obtain her PhD, supported by a studentship from AstraZeneca. Her project aims to characterise the subcellular parameters governing the efficacy of targeted protein degradation tools, whttp://www.phar.cam.ac.uk/sites/www.phar.cam.ac.uk/files/styles/medium/public/media/HesnaDrAkmanTuncer_0.jpg?itok=25ohgWckith a particular focus on PROTACs against Aurora A kinase.
Outside of her academic work, Annabel loves to stay active with a love for rowing and being outdoors.
Defu Song
Defu obtained his Bachelor of Science in Biological Sciences from Department of Physiology and Biophysics, School of Life Sciences, Fudan University in June, 2021, where he studied the expression, purification and characterization of the neurogenic differentiation factor NeuroD1. In October, 2021 he joined the Lindon Lab, Department of Pharmacology, School of Biological Sciences, University of Cambridge for a Master of Philosophy in Biological Science (Pharmacology), and his project is about harnessing the APC/C for targeted protein degradation. Some of his hobbies include hyper-realism and surrealism painting.
Visitors:
Dr Begum Akman
Begum is a Tübitak Fellow at Middle Eastern Technical University (METU), Ankara
Former members:
Begum Akman
Richard Wang    
Ahmed Abdelbaki
Arianna Rossi
Siân Stockton
Anja Hagting
Thomas Brand
Matteo Conversano
Rhys Grant
Mingwei Min
Alessia Bertholdi
Chiara Marcozzi
Maria P. Gavilan
Shan Qiao
Maria De Luca
Suzanne Floyd