Congratulations to Aurora for completing her PhD!
24 February 2021
Aurora joined the Itzhaki lab on a BBSRC DTP PhD studentship to develop CTPR proteins that can bind to, and inhibit, human tankyrase proteins which play a role in Wnt signalling and are upregulated in cancer. She will now go on to work at the company Heptares as a research scientist, after publishing a first paper which you can read here!
Congratulations to Marie for winning an Eric Reid Fund for Methodology grant!
6 June 2019
Current techniques for measuring forces within cells are limited by the lack of suitable sensor molecules that can provide a visual output of the forces applied to a protein of interest. As part of her PhD research, Marie Synakewicz has shown that TPRs can be designed to have different mechanical strengths and hence could be tailored to build a library of sensors for varied applications in mechanotransduction research. The Eric Reid Fund of the Biochemical Society awards small grants to support methods development, with a preference for cellular or bioanalytical work.
PolyProx – a spin out company from the Itzhaki lab
1 May 2019
In November 2018, a new biotechnology company, PolyProx Therapeutics was spun out from the Itzhaki lab by co-founders Laura Itzhaki, Albert Perez-Riba and Pam Rowling. The company is focused on the discovery and development of novel biopharmaceuticals for the treatment of cancer and has raised £3.4m of seed capital. PolyProx Therapeutics is based at the Babraham Research Campus. For more information please visit: www.polyprox.com
Congratulations to Sarah and Marie for completing their PhDs!
February 2019
Sarah Madden and Marie Synakewicz both joined the Itzhaki lab in 2015 as BBSRC DTP PhD students. Sarah's research focused on the development of biomimetics against various cancer targets. She has now moved on to Prof. Jody Mason's lab at the University of Bath to work on the development of new peptide inhibitors of transcription factors. Marie investigated the mechanics of a natural and a designed repeat protein using optical tweezers and is currently continuing her work in the Itzhaki lab.
Incoming: CRUK and PCRF grants to support new drug discovery approaches
August/September 2018
The cell's quality control machinery, which helps proteins to fold and disposes of unwanted proteins, is directed by signals driven by protein-protein interactions. With our CRUK Pioneer Award the Itzhaki lab exploited our understanding of these interactions to build a biotherapeutics platform capable of shortcutting those signals to co-opt the machinery and redirecting it to remove disease-associated targets. This year, Laura was successful in obtaining further funding for this project in the form of a CRUK Biotherapeutic Drug Discovery award. Additionally, a project grant from the Pancreatic Cancer Research Fund (PCRF) will support us in developing new approaches for drugging intractable targets in pancreatic cancer (more information can be found here)
Congratulations to Anna for completing her MPhil!
8 October 2018
Anna Chaplin spent her year designing proteins to induce the degradation of cancer-associated protein KRAS. She has now started a PhD in the Department of Psychiatry, working on "Systematic inflammation as a mechanistic link between the comorbidity of depression and heart disease over the lifespan."
Owen finishes his PhD and leaves for the big city
4 June 2018
Congratulations to Owen Burbidge for completing his PhD! He successfully developed nanobodies that stabilize oncogenic variants of tumour suppressor p16INK4a, an ankyrin-repeat protein that controls cell proliferation. After a mad race for the finish line, he is now starting a post-doc in the Spec lab at Imperial College London as a senior biochemical research scientist.
Congratulations to Ben and Tonia for completing their degrees!
23 November 2017
During his PhD, Ben Smith investigated the modes of interaction between β-catenin and its intrinsically disordered binding partners, focusing mainly on the transcription factor TCF4. Ben is now setting up his own company to run a board-games cafe in Cambridge
Tonia Kefala joined us for her MRes and spent a year investigating methods to deliver novel TPR scaffolds into cells. She is off to Roche Diagnostics Limited UK to work in Tissue & Sequencing marketing, but is already eyeing up PhD opportunities.
Aurora's Team qualifies for the Finals of the 2017 Biotechnology YES Competition
3 November 2017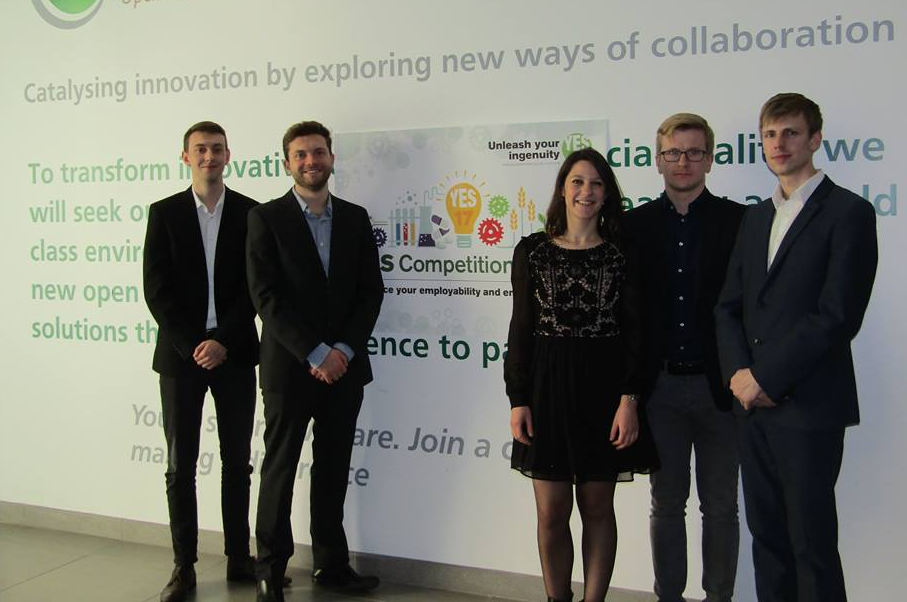 As part of an interdisciplinary team of 5 PhD students, Aurora attended the 3-day Biomedical workshop and finished as one of three winning teams in the Young Entrepreneur Scheme Biotechnology YES 2017 competition. At the workshop, each team optimized a business plan around a plausible biomedical idea to be developed by an hypothetical company. The team consisted of Aurora, Teodors Pantelejevs (Department of Biochemistry), Matthew Ratcliff (Department of Biochemistry), Thomas Sharrock (Department of Physiology, Development and Neuroscience) and Callum Talbot-Cooper (Department of Pathology). Their company, SynapteX, is developing the first non-hormonal, reversible male contraceptive pill and, following successful pre-clinical trials in animals, is looking for venture capital investments in order to start the Phase I clinical trial in humans. On the last day of the competition, each team pitched in front of a panel of equity investors. The winning teams will now progress to the national final, hosted at the The Royal Society in London. 
Marie wins a BPS Student Poster Award at the 2017 EBSA congress
20 July 2017
The Biophysical Society sponsored 12 poster awards at the European Biophysical Societies Association congress, held in Edinburgh this July. Marie Synakewicz defended her work on the mechanics of two repeat proteins and was one of the prize winners awarded $500 and a complimentary membership to the Biophysical Society.
Sarah receives a SCI scholarship
5 July 2017
We congratulate Sarah for winning a scholarship from the Society of Chemical Industry (SCI) this year. These scholarships are to support early career researchers and awarded to a maximum of three PhD students for a 2-year period. To read more, visit the official award publication here.

Congratulations to Alex for completing his PhD!
30 June 2017
After submitting his thesis on the 25th of April, Alex delivered a successful defence today. He was able to create nano-materials from amyloids and repeat proteins using click chemistry, and characterized these hydrogels with the help of microfluidic devices. At the moment, Alex is working as a Materials Scientist for Blacktrace, a company which develops and manufactures cutting-edge technologies for various applications in the natural and material sciences. We wish him all the best for his future career!
Laura is promoted to Professor!
15 June 2017
As part of this year's Senior Academic Promotion exercise Laura was promoted to a Professorship. The department did not host a female professor since 2012 and hence these are great news! The whole group was very excited and in a celebratory mood for days - helped along by plenty of cake of course.
First outing of the LSIBC
6 April 2017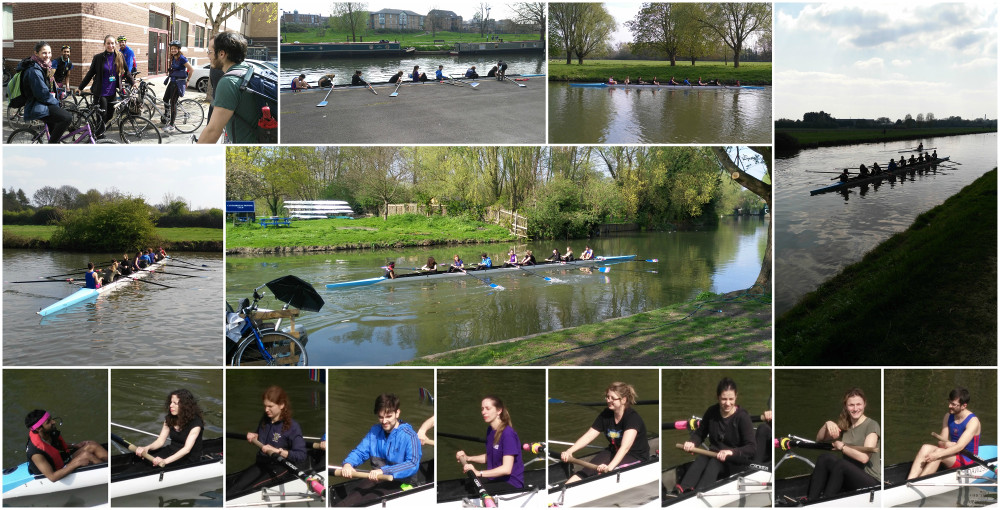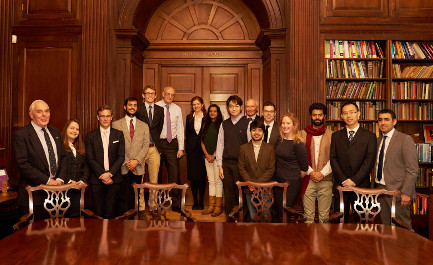 Congratulations to Sarah for winning a CSAR Award!
13 March 2017
Every year the Cambridge Society for the Application of Research (CSAR) recognises outstanding research in any discipline conducted by PhD students currently studying at the University of Cambridge. This year Sarah Madden was one of 12 students to be awarded this prestigious prize for her work on developing a drug against cancer using stable forms of omomyc. Read more...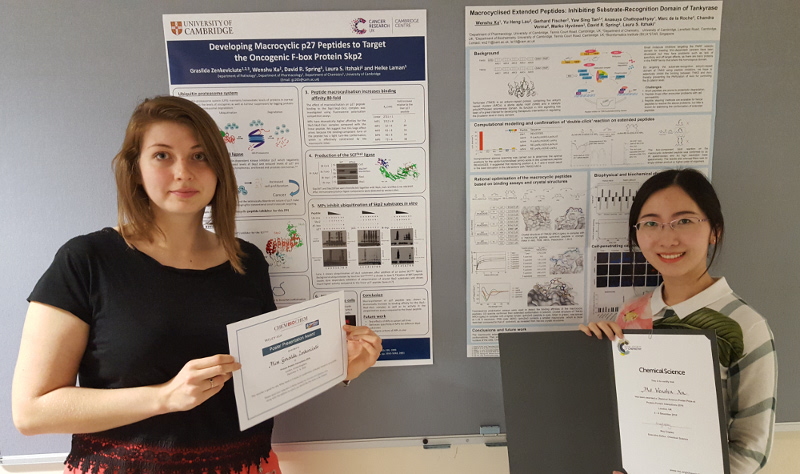 Congratulations to Grasilda and Wenshu for reeling in poster prizes at the 2016 PPIs conference!
12 December 2016
 At a recent conference on Protein-Protein Interactions (PPIs), hosted by the Royal Society of Chemistry, Grasilda Zenkeviciute and Wenshu Xu successfully defended their posters on targeting PPIs using macrocyclic peptides. Grasilda received the ChemBioChem/Wiley-VCH Poster Presentation Award and Wenshu was awarded the Chemical Science Poster Prize.
Christmas Party Shenanigans
7 December 2016

Congratulations to Sonja for completing her PhD!
26 October 2016
Sonja submitted her thesis on the 9th of September, which of course was duly celebrated by a lunch at Seven Days. Right after passing her viva, more than a month later, we gathered with a very happy Dr. Sonja Dunbar in the tea room for champagne and cakes. To ensure that she will never forget the ups and downs of her β-catenin work one of her leaving presents was a small and very cute Armadillo. Since finishing her work in the lab she became a Teaching By-Fellow at Churchill College and moved to the Department of Plant Sciences to create teaching resources for undergraduates. 
Elin moves to The Other Place
1 September 2016
We all knew the day had to come eventually that Elin would leave the Itzhaki group. Originally, Elin joined the lab for a summer internship in 2009. She then conducted her Diploma Thesis project with Laura, before fully joining as a PhD student in 2010 to investigate degradation of repeat proteins. After successfully completing her PhD, Elin stayed on as a post-doc researching different ways to assemble repeat proteins into macromolecular structures using metal ions.
Soon after she accepted a position as a Senior Scientist with Immunocore Ltd., Oxford, the mad rush of finishing off experiments started. The only thing we could do was to ensure that she left in "Itzhaki style". Laura invited the whole lab for a garden party and as usual we celebrated by having a massive pot-luck dinner with foods from all over the world. The weather held up nicely and we spent a few enjoyable hours reminiscing around the bonfire.

A summer full of students and excursions
June - August 2016

As summers go, we have had quite a busy one! This year we hosted altogether 4 summer students who were with us for varying lengths of time. Arthur Whyley, a GCSE student from Cottenham Village College, joined Pam to gain first-hand experience of what science can be like. The other three interns were undergraduates that we stole away from the North for a short period of time.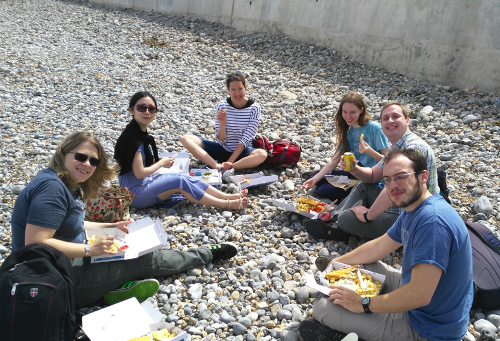 Rory Wilson, who had done an internship with us during his A-levels, came back for a couple of weeks. He is now in his second year at the University of York reading Biology. Anna Chaplin, studying Biomedicine, decided to exchange the Durham weather for the (warmer) Cambridgeshire climes. Lastly, we hosted Sasha Eremina, a biochemist from Edinburgh. She was successful in securing an Amgen Scholarship and stayed with us for two months. Check out her video A day in the life of an Amgen Scholar at the University of Cambridge. Thanks to all four of you for joining us this summer - it was great to have you around and a pleasure to teach you!
This year, it was rather difficult to organise a single joint summer outing at which all members were present. Hence, we simply had a few spread out over the summer. In late June, Owen organised some of the Darwin College punts for half a day. Most of us packed their lunch and out we went to the Grantchester Meadows. At the beginning of August, some of us managed to go back to Sheringham for the day. Of course, there were also more sneaky ice cream outings than we can count. However else is one supposed to enjoy good weather when it comes around?!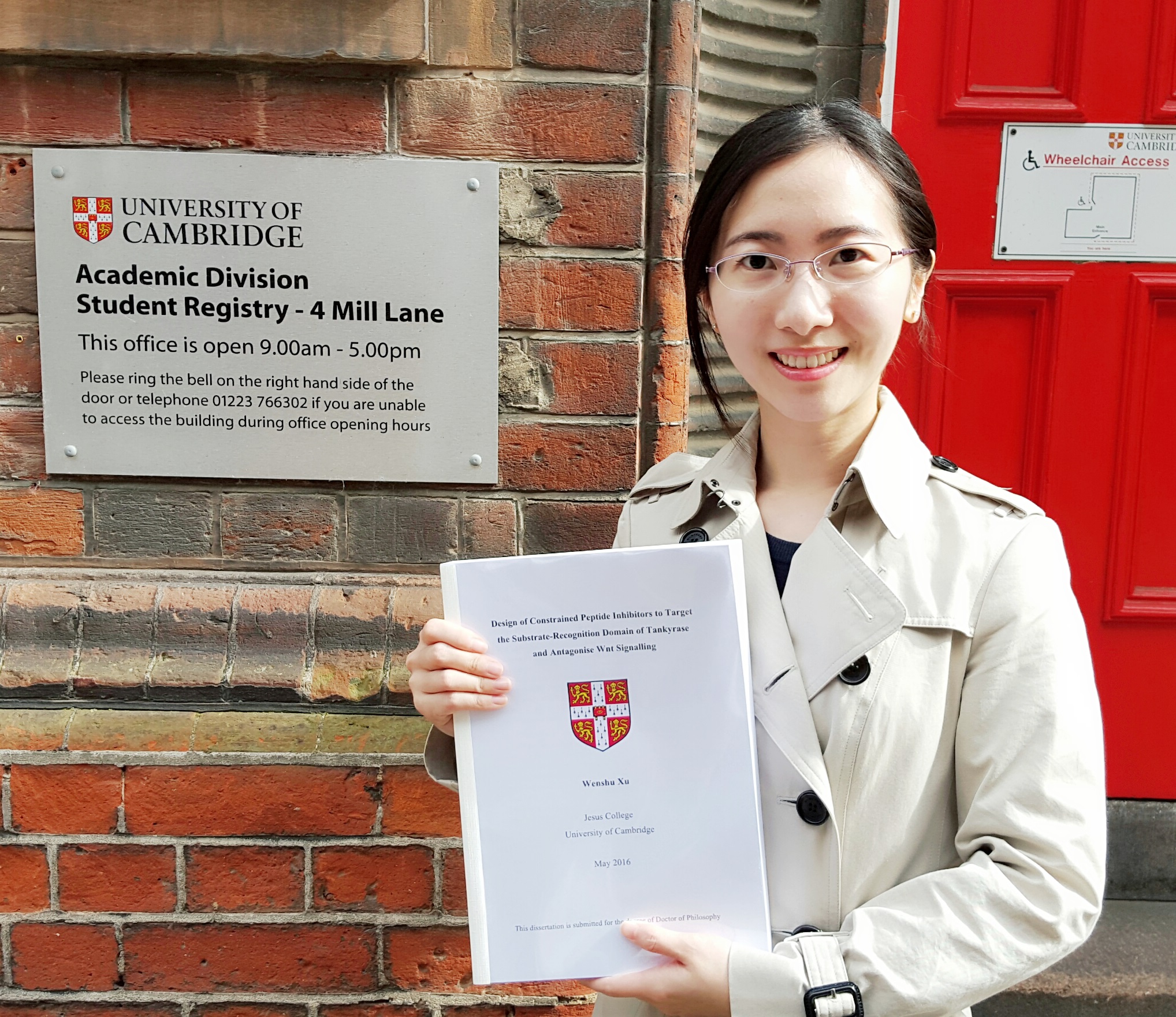 Congratulations to Wenshu for completing her PhD!
13 June 2016
After a few months of writing up in a noisy office, Wenshu finally submitted her thesis at the end of May. A couple of weeks and some last-minute panics later she also passed her viva with flair. Of course, the whole lab celebrated Itzhaki-style: with Champagne and a full-blown Chinese lunch @72 on Regent Street. Now, Wenshu is ploughing through the corrections and will soon have to make the most important decision of all: which colour to chose for the binding?
Sunshine = Ice cream
5 May 2016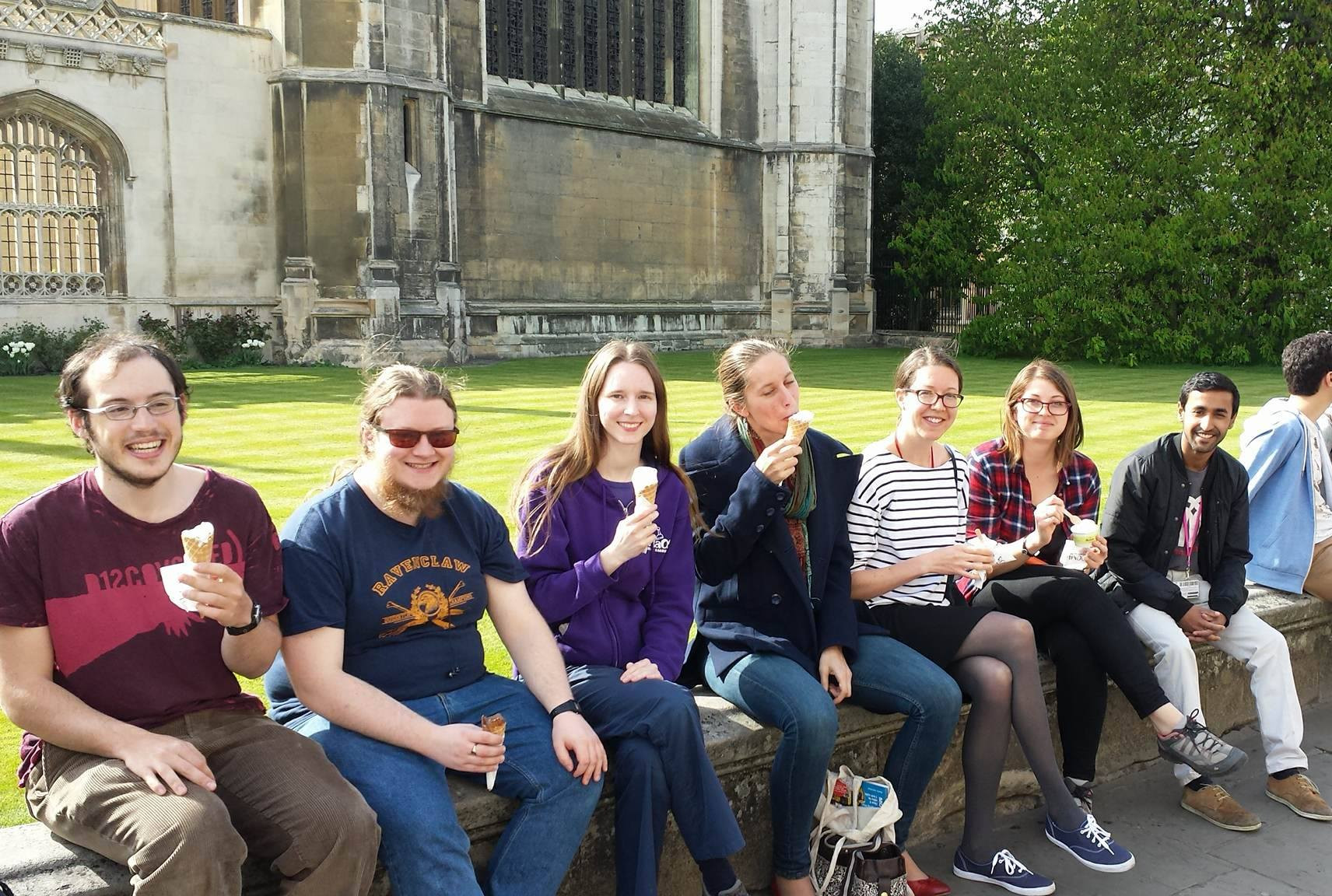 Some of us managed to get out of the lab to enjoy some authentic Italian ice cream. During the 15 min we were sitting there, a punting guide mistook us for tourists and offered us a punt tour - a too common occurrence in the City Centre of Cambridge.
Photo credit: Ewan MacAulay
Congratulations to Zhen Du for securing a Herchel Smith PhD studentship!
12 April 2016 
Just over half a year ago Zhen joined the Itzhaki Group for a Master's degree. The past months she spent hopping between the St John Smith, Dobson and Itzhaki labs in the Pharmacology and Chemistry Departements to investigate protein homoeostasis and neurodegenerative diseases in the naked mole-rat. She obviously could not withstand the attraction of Cambridge, the rats and the people and decided to stay on for a PhD. 
CRUK Pioneer Award: Sending cancer-driving molecules to the rubbish tip
4 April 2016
Last year, Cancer Research UK (CRUK) established a new funding scheme, the Pioneer Award, to support novel and high-risk ideas that have the potential to be game-changers in cancer research. We are thrilled to announce that Laura has secured one of those awards to work on alternative drug targeting approaches. Instead of developing drugs that block the function of a cancer-causing molecule, we will be looking into drugs that targets them for degradation instead. Read more...
Christmas Season 2015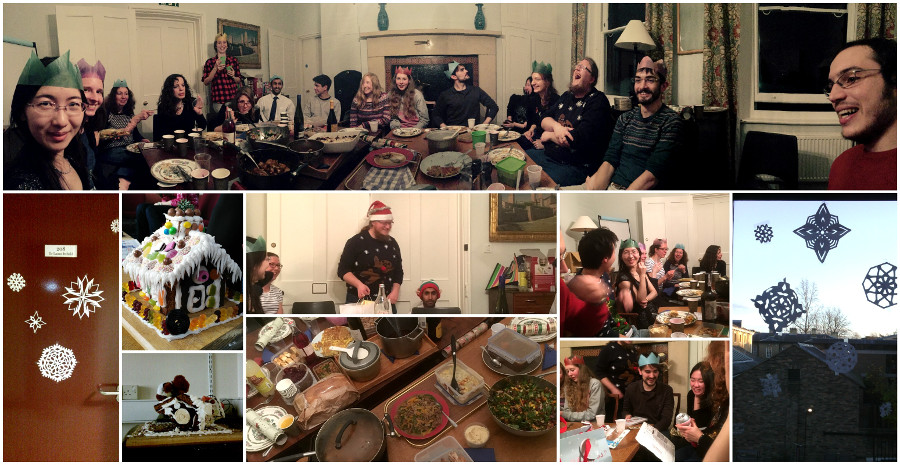 Lab trip to the seaside - Sheringham, June 2015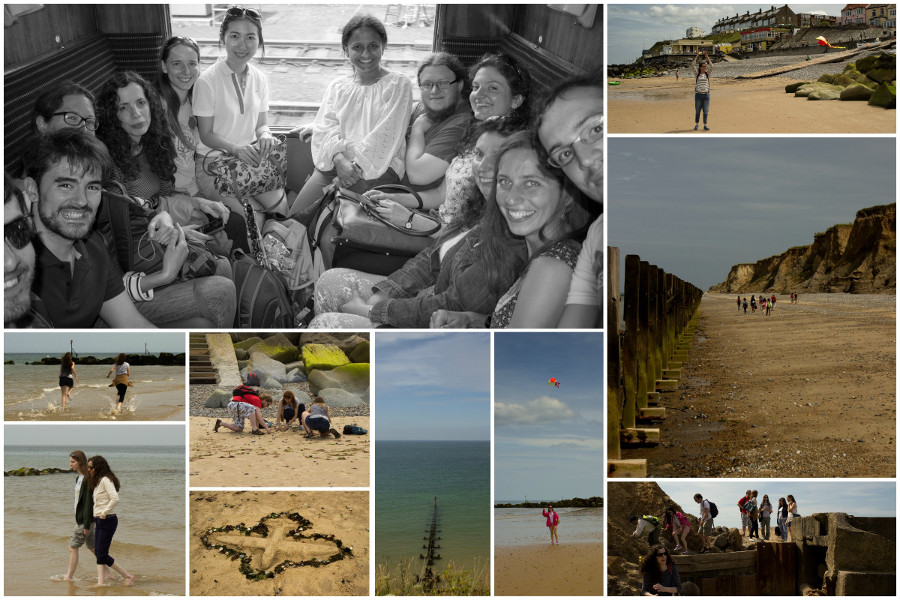 Christmas potluck dinner 2014